BERJAYA University College Awarded Most Outstanding Team in Catering Services at Culinaire Malaysia 2019
KUALA LUMPUR: At the awards dinner for Culinaire Malaysia 2019, the culinary and hospitality team of BERJAYA University College (BERJAYA UC) took home the coveted award – Most Outstanding Team in Catering Services. Competing in various categories, the students also bagged the grand prize for Tea and Pastries, 6 silver medals, 2 bronze medals and 5 diplomas.
"Culinaire Malaysia in conjunction with Food & Hotel Malaysia (FHM) is held every two years. It is very exciting to see the level of talents in both the Junior and Professional categories. For some of these students, it is the first step into competing with people from other academic institutions and industry practitioners. Our students excelling in these competitions is a true testament to the strength of our programmes," said Federico Michieletto, Director-Faculty of Culinary Arts.
"Competitions such as Culinaire Malaysia 2019 plays a vital role in the growth of our students. The organisers continually turn up the heat in the kitchen by raising the standards of culinary excellence. It is great to see young chefs doing their best, test their skills, and walk away with a sense of accomplishment. The icing on the cake was being awarded the gold medal like Lew Jan Heong. He took the Diploma in Culinary Arts in 2017 then progressed to Bachelor of Culinary Arts Management (Hons) in May 2019."
Ng Mei Leng, Dean-Faculty of Hospitality and Tourism adds that "For the Mixology Challenge, both Ivon Soon Shu Wen and David Phoon Zhen Wei were judged on the grooming standards, mise en place, hygiene practices, mocktail name, speed, technical skills, aroma and colour. As part of the rules, the students have to submit the Fische Technique (standard recipe) document, and during the time frame allowed, produce one long drink which can be refreshing, sweet, sour or tropical using local fruits, spices or herbs and one short drink with no more than six (6) ingredients being used which includes drops, dashes and solid ingredients like fruit or spices."
"Aside from classroom instruction, there is no better way for our students to put their knowledge and skills to the test, than in a competitive format."
"Many of our alumni go on to lead great careers in culinary arts and the hospitality industry," remarked Mae Ho, Executive Director/CEO of Berjaya Higher Education.
"At BERJAYA UC, we are committed in mentoring the next generation of talented culinary Arts and Hospitality professionals. These competitions brings out innovative ideas which the students can take to the next level. Not only do they hone their craft but also improve on their soft skills such as communication, deportment and develop self-confidence. Every semester, our students hold an 'Afternoon Tea' event which is open to the public. Hence, the 'After Three' team had experience on how an afternoon tea event has to be carried out. Competing in Tea & Pastries -Junior Team Food and Beverage Skills Challenge, the students applied their communication and leadership skills, technique & knowledge in pairing the food with beverage. They were judged in food preparation, beverage preparation, table set up, service etiquette and Fische Technique. Teams were judged based on Silver Service – hygiene and cleanliness, crockery, décor and other tableware, staff attitude, efficiency of service and service of tea. I am extremely proud of how our students fared at Culinaire Malaysia 2019 and on receiving the 'Most Outstanding Team in Catering Services' which we have previously won in 2013 and 2015. I am also grateful for the commitment and dedication of our lecturers who volunteered as coaches to ensure the students receive the needed support."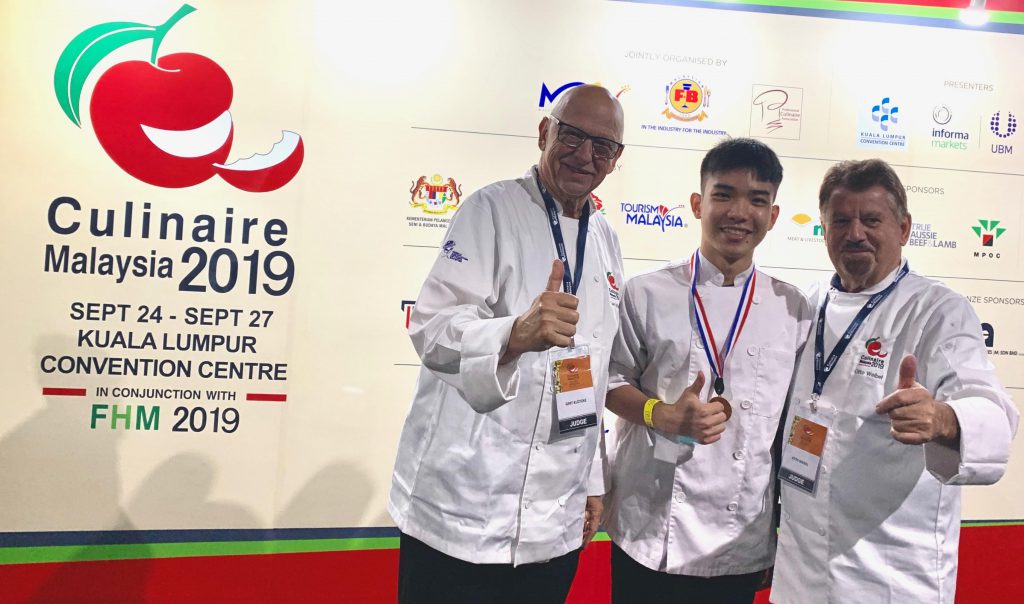 Lew Jan Heong receiving his Gold Medal for Western Cuisine-Lamb category from Chef Gert Klotzke and Chef Otto Weibel