BERJAYA UC Students Win Raja Sawit Cooking Competition
KUALA LUMPUR: Raja Sawit, a reality TV show featuring culinary school students' aged between 18-25 years old was launched early this year featuring celebrity Chef Wan and Chef Martin Yan as both mentors and judges. Supported by the Malaysian Palm Oil Council, the theme of the show was "Food Unites Us" – Inspire, Celebrate & Promote Cultural Diversity & Team Spirit in a New Malaysia.
The competition which was aired in TV3, comprised of 8 episodes featuring various challenges: episode 1 highlight the audition process, episode 2 was an egg challenge, episode 3 was a wet market visit – cooking the ingredients the participants have bought, episode 4 was a visit to an agricultural farm to pick and cook vegetables, episode 5 a seafood challenge, episode 6 was using palm oil in an international menu, episode 7 was an interaction between the participants and their family members to cook a family recipe and episode 8 was to compete with the celebrity mentors.
The competition participated by BERJAYA UC first-year culinary student Vincent Chin and third-year culinary student Tunku Puteri Farah Nina Binti Tunku Mohamad Zulkifli, was a fiery battle with other university students in a display of knowledge, skills and passion.
"Even though we didn't know each other, we had good chemistry with each other. We knew what the other person needed or wanted as we worked without us having to say anything. We had a good work ethic," remarked Puteri.
Senior Chef Lecturer Vincent Pang adds "BERJAYA UC culinary arts students are given opportunities to take part in various competitions. For Tunku Puteri Farah Nina Binti Tunku Mohamad Zulkifli, her experience in the culinary industry over the years has earned her an impressive portfolio; just last year, she became the 1st Runner Up in the Culinary Competition as part of the Careers@HILTON event. It is her expertise in the competitive culinary field that earned her the ability to take part in the Raja Sawit Cooking Competition."
For Vincent Chin, as a first-year student, this was his opportunity to create a foundation for future competitions. "We worked well together, fashioning dishes based on traditional meals with a modern twist," Vincent states.
"Working with two well-known celebrity chefs who were both our mentors and judges was also daunting. They do not mince their words when they gave feedback to us. They were honest, telling us if the food we made was not up to their standards. However, they also explained in detail how we could improve our dishes to make them even better," said Puteri.
When asked who they would rather have as a mentor, the two differed; Puteri preferred the brutal honesty of Chef Wan, Vincent preferred Chef Yan's more easy-going yet straight-forward nature. That being said, the two agreed that it was because of the two judges' strict demands for excellence that they were able to win the competition, noting that their criticisms were not to discourage, but rather to improve their skills.
The accomplishments of our students definitely have earned them national prestige. Chef Federico Michieletto, Director, Faculty of Culinary Arts at BERJAYA UC expressed his pride for the students: "Vincent and Puteri have represented BERJAYA UC wonderfully and with grace. They are living examples that the Berjaya Immersion Methodology is a great way to learn in order to get ahead in the job market. We know we will see a great future ahead for both of them."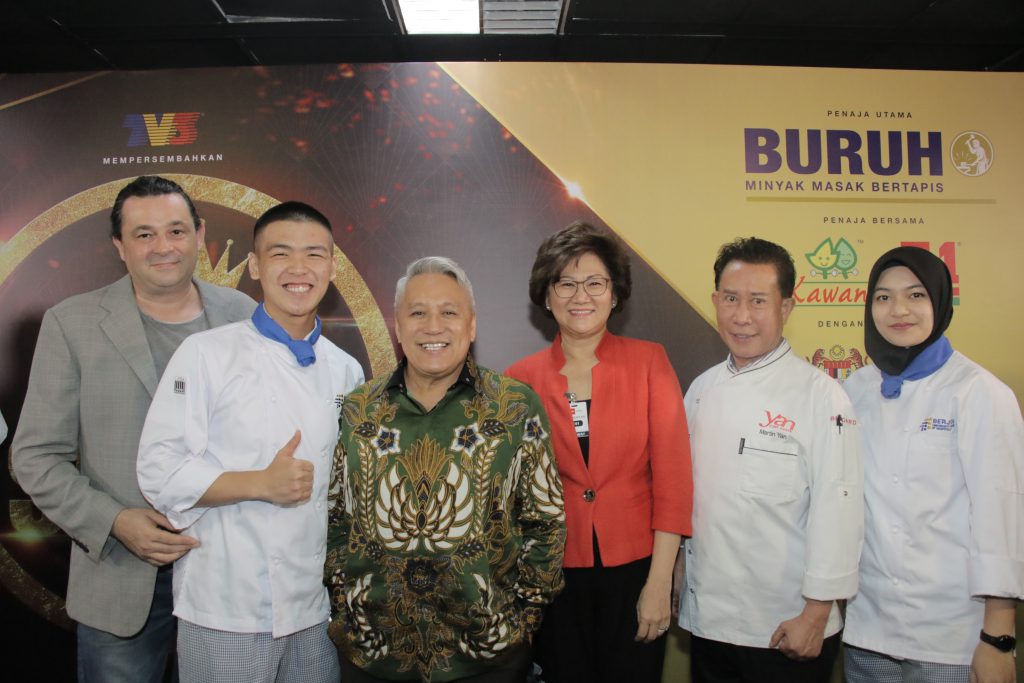 Left to right: Chef Federico Michieletto (Director of Culinary Arts, BERJAYA University College), Vincent Chin, Datuk Redzuawan Ismail (Chef Wan), Madam Mae Ho Seok Khen (Executive Director/Chief Executive Officer, BERJAYA Higher Education Sdn. Bhd.), Chef Martin Yan, and Tunku Puteri Farah Nina Binti Tunku Mohamad Zulkifli.