MoU Signing Ceremony
MoU Signing Ceremony between BERJAYA University College
and Estream Sdn Bhd.
KUALA LUMPUR: On the 26th of July 2019, a Memorandum of Understanding was signed between Emeritus Professor Walter Wong, Chief Executive and Vice-Chancellor of BERJAYA University College, and Mr. Desmond Law Hoe Yen, Managing Director of Estream Sdn Bhd. This event was officiated by our Executive Director and Chief Executive Officer, Madam Mae Ho Seok Khen. The MoU marked a joint collaboration between the two companies that would foster growth, not just for the university college as a business, but also for its students.
Estream Sdn Bhd, also known as SQL, specialises in developing software that allows businesses to manage their accounts more efficiently. Through an encrypted service, employers and employees are able to report various financial reports, such as payroll and payslips, with ease and digital safety. In our digitised era, Estream Sdn Bhd's products are attractive to a technological market.
One might question why BERJAYA University College, a higher education institution, has opted to pursue a collaboration with Estream Sdn Bhd. At BERJAYA UC, aspiring business leaders and entrepreneurs are coached on the right skills and knowledge to become an invaluable human resource to the corporate world. Our graduates are highly sought-after, and will have the perfect foundation to become leaders in their chosen fields. BERJAYA UC offers a diverse set of options for prospective students to select from, especially within the BERJAYA Business School. With a number of degree programmes, ranging from Foundation level to a Master's level, BERJAYA UC is aware of the need to work with companies outside the higher education sphere. The university college utilises a method known as the "BERJAYA Immersion Methodology" in how it educates students. Stepping away from conventional methods of higher education, students are encouraged to apply their knowledge to real-world situations. Located in the heart of Kuala Lumpur, students have access to international businesses; the city has become their classroom.
The signing of the MoU between BERJAYA UC and Estream Sdn Bhd signals an opportunity for students to explore further options for industrial study visits and for potential internship placements. As part of Berjaya Corporation Berhad, students are able to see first-hand how businesses operate. Students studying a Bachelor programme in particular will have the chance to undergo a semester-long internship, providing invaluable guidance that will give them a competitive edge through real-world industry insights. As such, students will enjoy the opportunity to be given first job priority status for work placements around the world, spanning a range of industries. Associate Professor Dr. Cheok Mui Yee argues, "Students studying under a Bachelor in Accounting and Finance will especially benefit from this collaboration. Not only will they have the theoretical knowledge we provide for them, they will have hands-on experience that will make them attractive prospective employees before they graduate. Practical experience in the Accounting and Finance industries will give them good exposure."
BERJAYA UC looks forward to the work that will be accomplished with Estream Sdn Bhd. Emeritus Professor Walter Wong notes, "We need to shift the emphasis from theory to practice, and encourage innovation and creativity among our young generation today." By working with Estream Sdn Bhd, students will have a stepping stone into the Accounting and Finance industries, and will foster new skills that will market them as attractive graduates.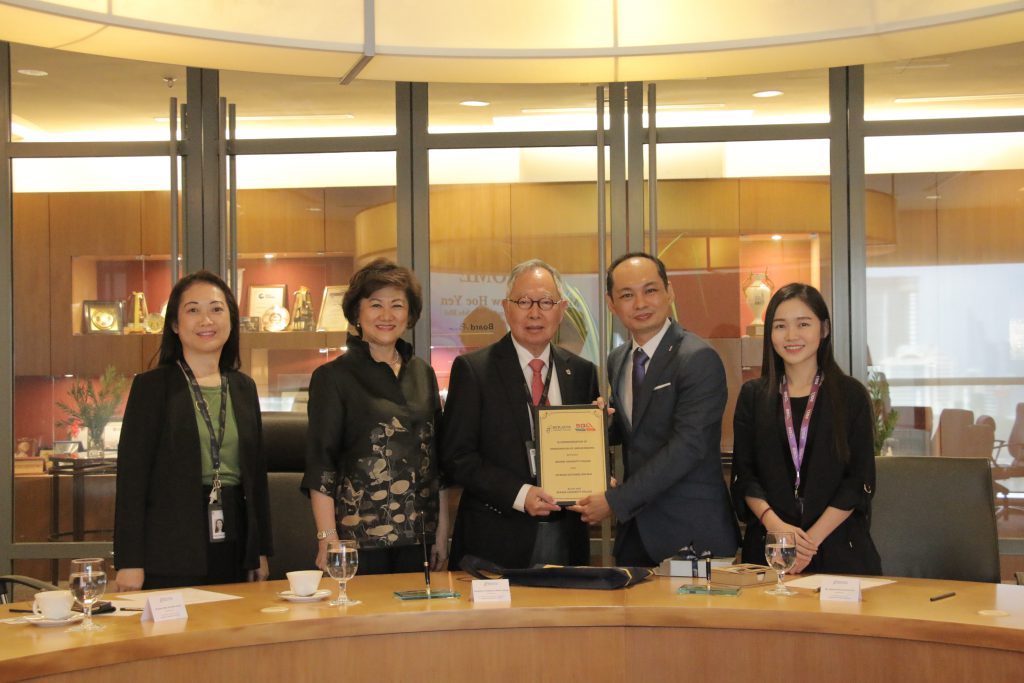 Left to right: Associate Professor Dr. Cheok Mui Yee (Dean of BERJAYA Business School), Madam Mae Ho Seok Khen (Executive Director/Chief Executive Officer of BERJAYA Higher Education Sdn Bhd), Emeritus Professor Walter Wong (Chief Executive/Vice-Chancellor of BERJAYA University College), Mr. Desmond Law Hoe Yen (Managing Director of Estream Sdn Bhd), Ms. Ong Bee Wei (Education Advisor of Estream Sdn Bhd), Nur Afiqah Binti Mohd Kabri (Lecturer of BERJAYA Business School)