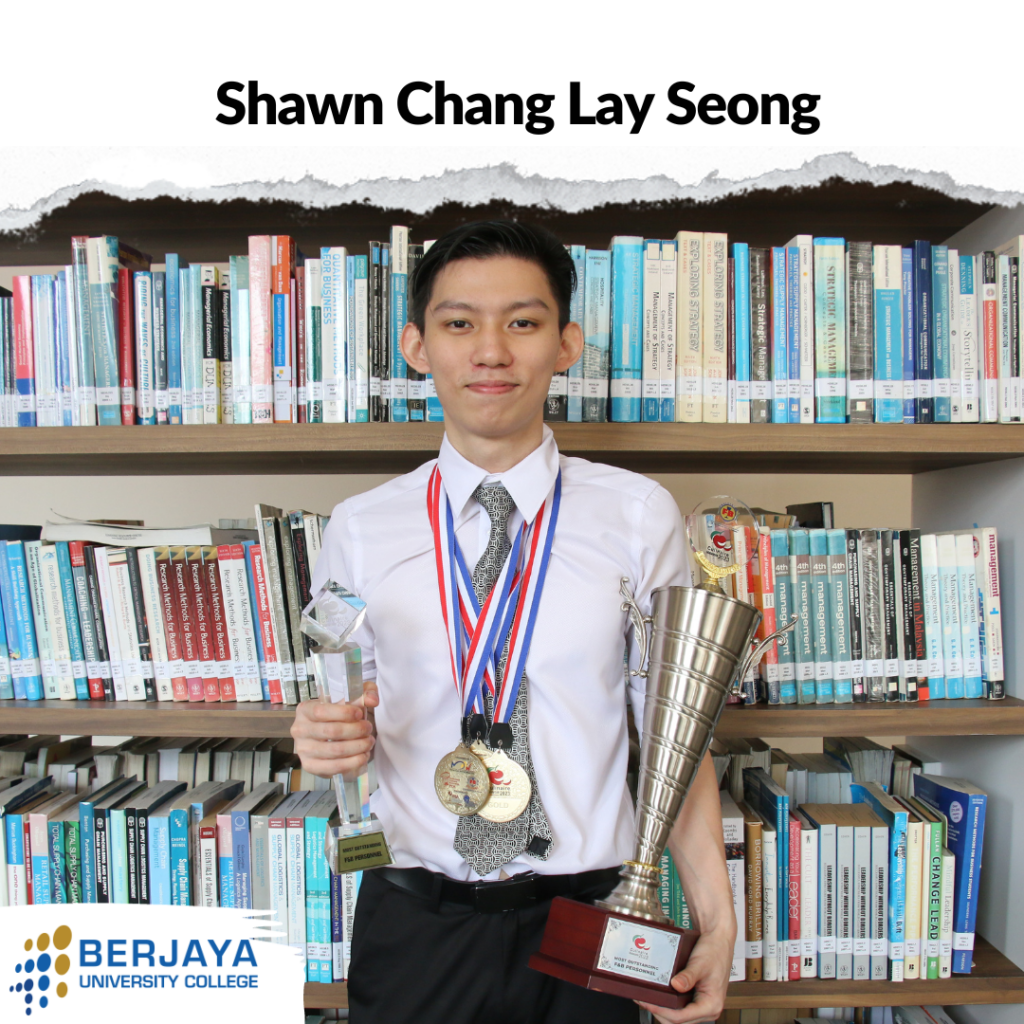 Date: 5th October 2023
Shawn Chang Lay Seong, a Bachelor's in Hospitality Management student at Berjaya University College, has left an indelible mark on the culinary world. His journey is a testament to dedication, passion, and the pursuit of excellence.
Culinaire Malaysia 2023 Triumph
Shawn's accolades speak volumes about his exceptional skills and unwavering commitment. At Culinaire Malaysia 2023, he clinched three gold medals in Cocktail, Malaysian Local Fruit Flambe, and Fine Dining Table Setting, alongside receiving the coveted Most Outstanding F&B Personnel Award.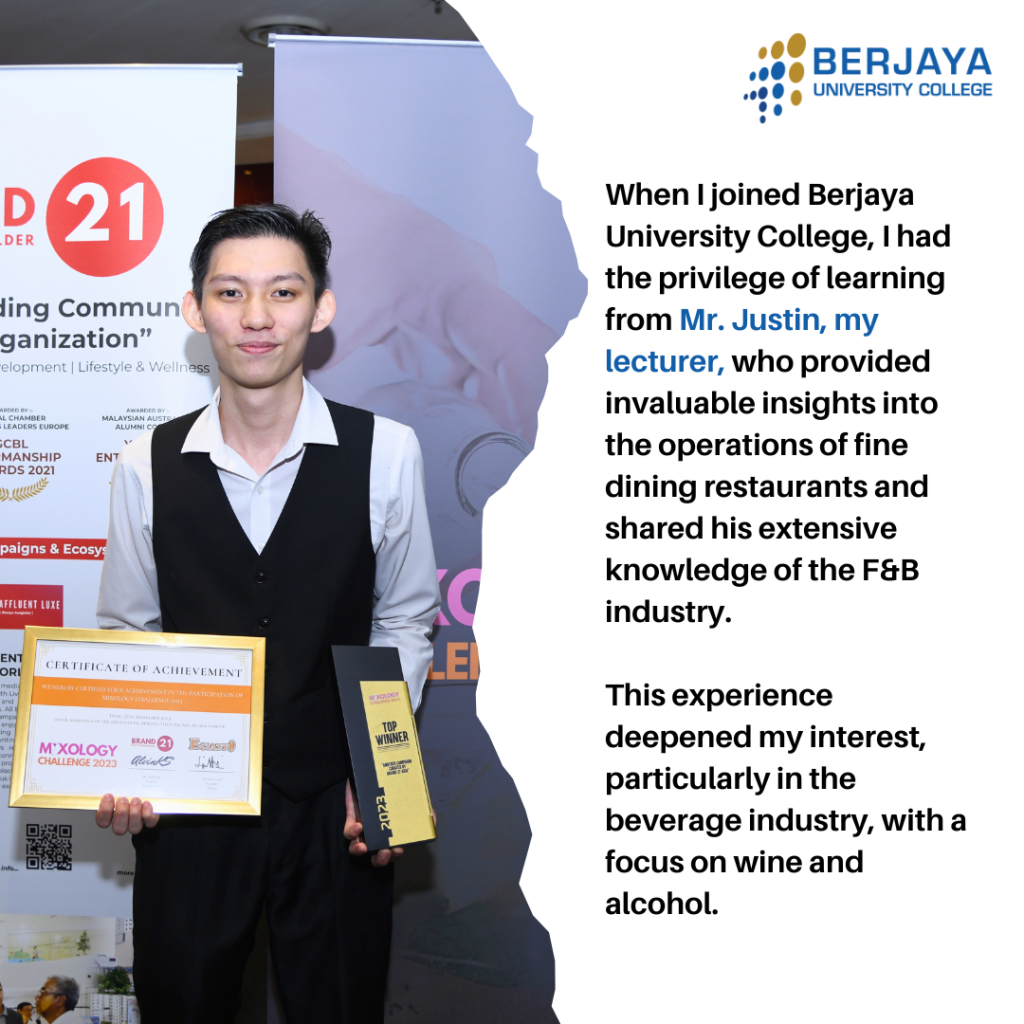 Mixology Challenge 2023 Victory
His winning streak continued at the Mixology Challenge 2023, where he secured the first-place position, showcasing his unparalleled talent in mixology.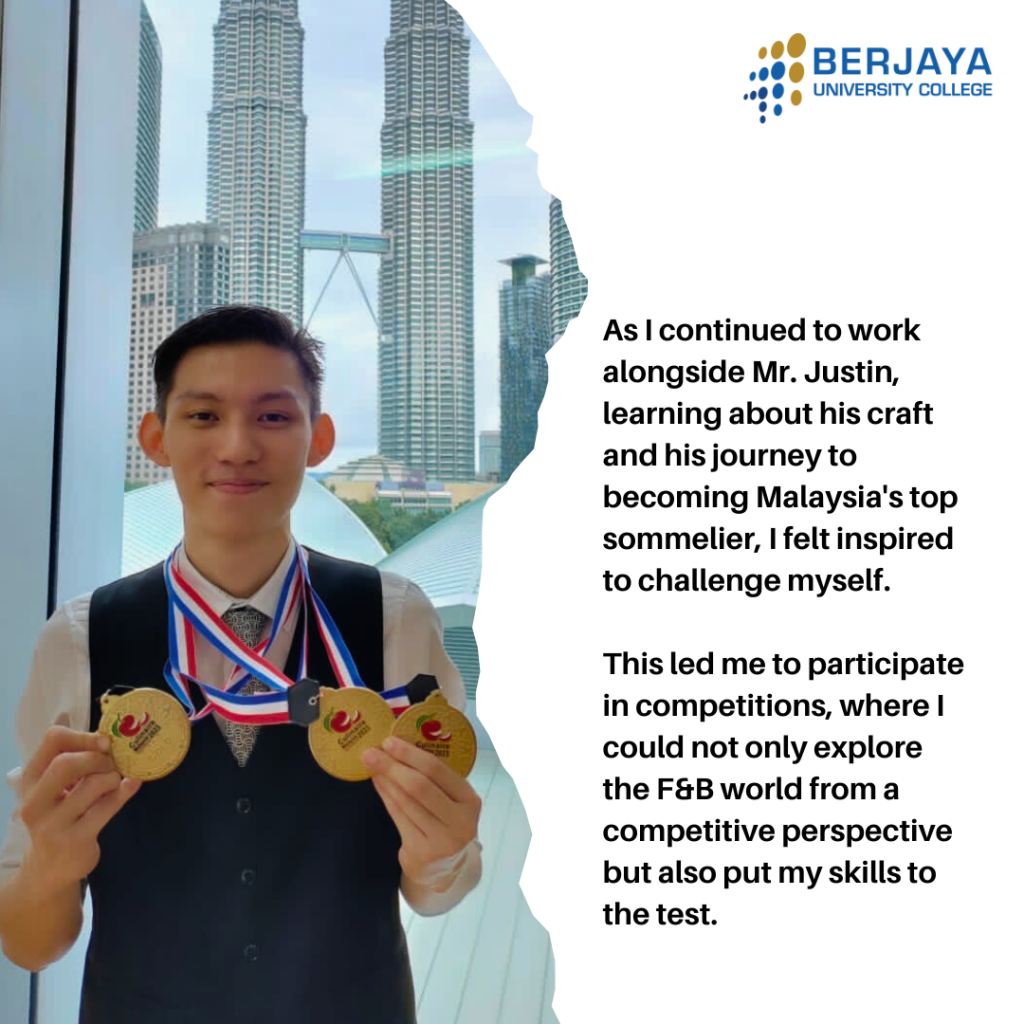 A Journey of Passion and Perseverance
Shawn's journey to success was marked by dedication and continuous improvement. Despite his initial nervousness and challenges during competitions, he learned to stay focused and not let setbacks deter him.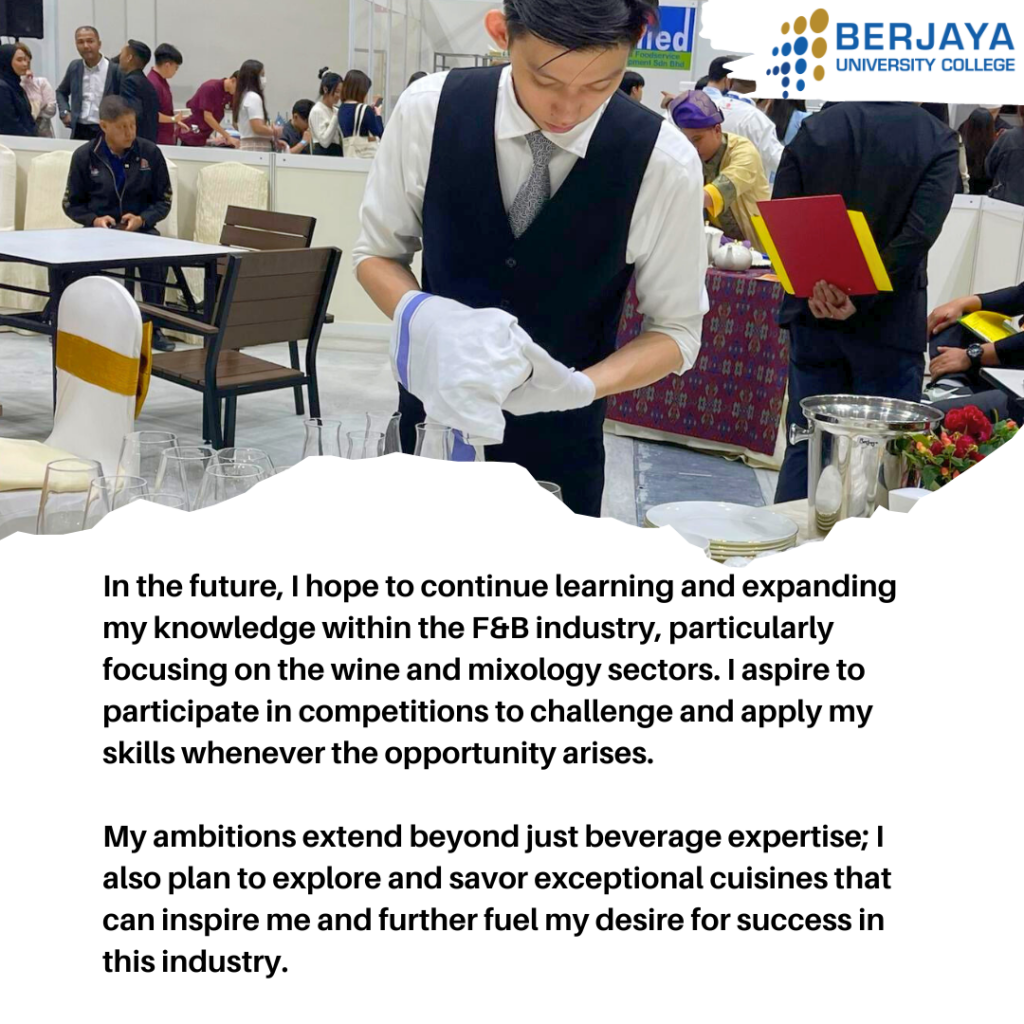 Invaluable Mentorship by Berjaya University College lecturer Mr. Justin
Shawn's remarkable journey in the culinary world would not have been possible without the guidance and mentorship of Mr. Justin, his dedicated lecturer. Mr. Justin played an instrumental role in shaping Shawn's skills, pushing him beyond his limits, and providing invaluable insights throughout his training.
Under Mr. Justin's tutelage, Shawn not only honed his technical abilities but also developed a profound understanding of the intricate workings of the fine dining industry. Mr. Justin's extensive knowledge of the F&B industry, combined with his passion for teaching, fueled Shawn's thirst for excellence.
It was Mr. Justin's unwavering support, constructive feedback, and encouragement that empowered Shawn to achieve the gold medals at Culinaire Malaysia 2023 and excel in the Mixology Challenge 2023. His mentorship was the guiding light that led Shawn to success, and it is a testament to the power of dedicated educators in shaping the future of culinary talent.
A Future of Excellence
Looking ahead, Shawn aspires to further explore the F&B industry, with a particular focus on wine and mixology. He plans to continue participating in competitions to challenge himself and apply his skills effectively. Beyond beverages, Shawn aims to immerse himself in diverse cuisines to fuel his passion and drive for success.
Shawn Chang Lay Seong is undoubtedly a rising star in the F&B universe, and his story is one of inspiration and culinary excellence.
Berjaya University College: A Gateway to Excellence
Berjaya University College stands as a gateway to excellence, offering a platform where aspiring talents like Shawn Chang Lay Seong can transform their dreams into reality. Berjaya University College's commitment to providing outstanding education and opening doors to countless opportunities is exemplified through its dedicated lecturers who are industry experts themselves. Their wealth of practical knowledge and unwavering support empower students, nurturing them into the industry leaders of tomorrow.
At Berjaya University College, excellence is not just a goal; it's a journey, and Shawn's remarkable achievements are a testament to the institution's commitment to shaping the future of the culinary and hospitality industry.