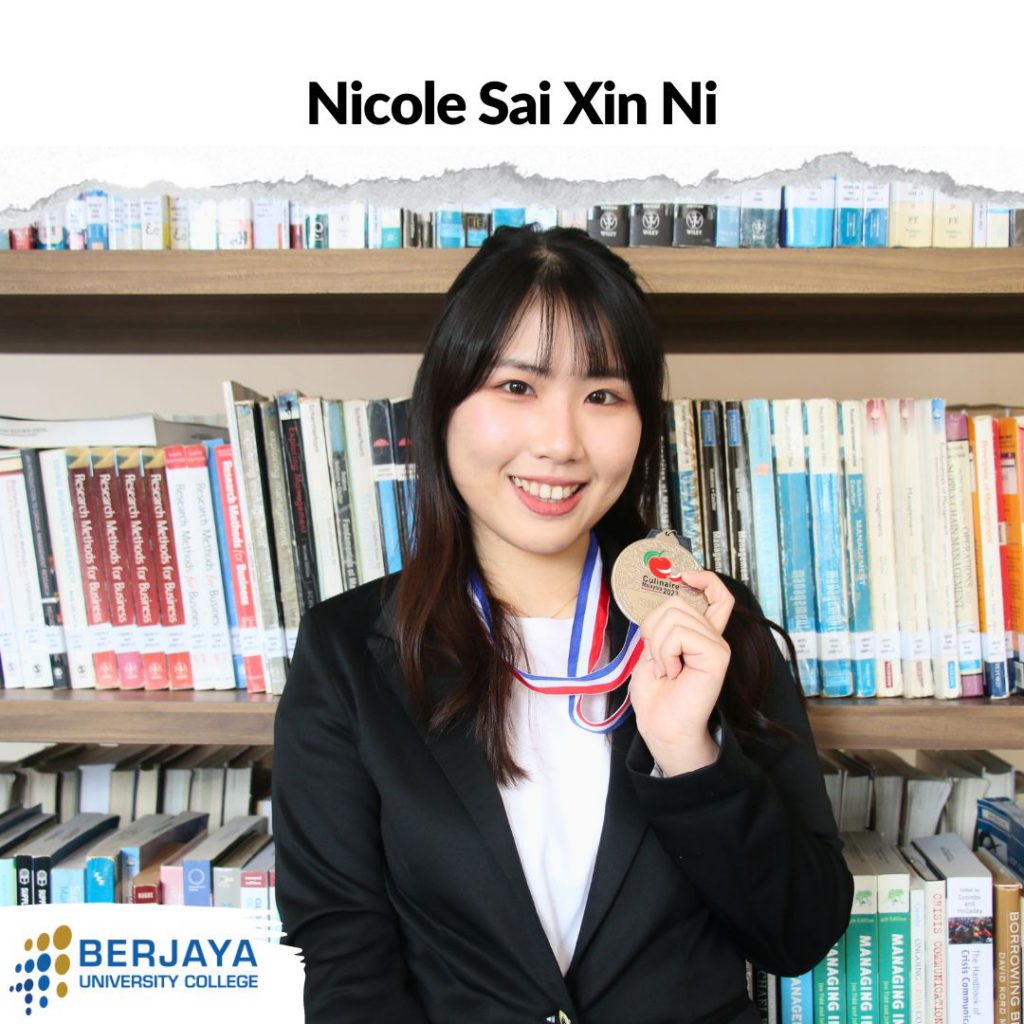 Date: 9th October 2023
Meet Nicole Sai Xin Ni, a dedicated student at Berjaya University College, who made a transition from the field of Hospitality Management to pursue a Master of Business Administration. Her journey serves as a testament to the profound impact of education and unwavering dedication to one's aspirations.
Discovering a Passion for Hospitality Management
Nicole's experience in Hospitality Management provided her with exposure to various aspects of the hotel industry, ranging from front-of-house operations to the intricacies of behind-the-scenes hotel management. It was during an internship that Nicole discovered her strengths lay in operational roles, igniting a passion that ultimately guided her towards pursuing an MBA.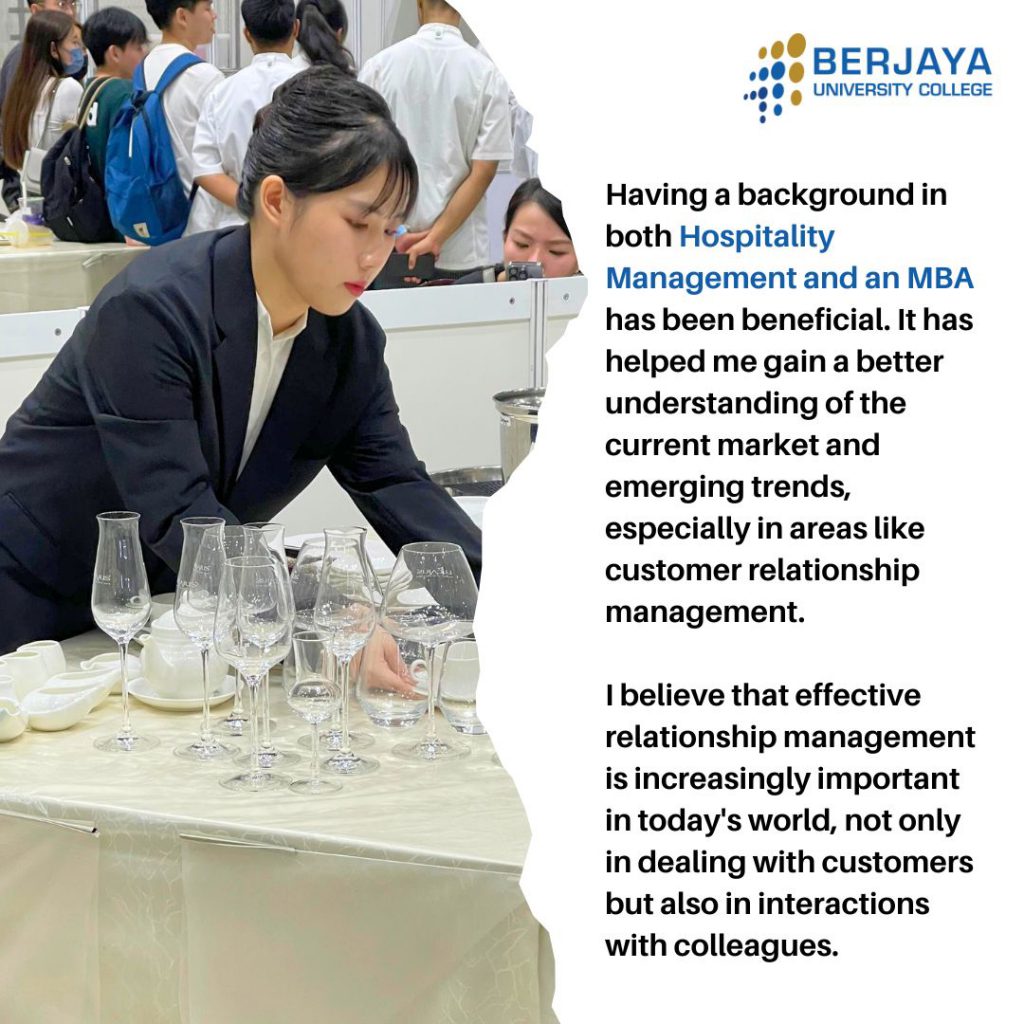 The Motivation to Transition
As Nicole ventured further into her academic journey, she recognised the importance of having a Masters degree in today's competitive job market. Armed with the support and encouragement of her family, she found the motivation to transition to an MBA programme, envisioning a broader array of career opportunities on the horizon.
A Synergy of Skills: Hospitality Management Meets MBA
Nicole's unique combination of Hospitality Management and MBA studies has proven to be a powerful asset. Her hospitality education instilled vital skills in communication, interpersonal relationships, and customer service—skills that seamlessly complement her MBA studies. These skills provide her with a distinctive perspective in the business world, enabling her to collaborate effectively, resolve conflicts, and excel in leadership roles.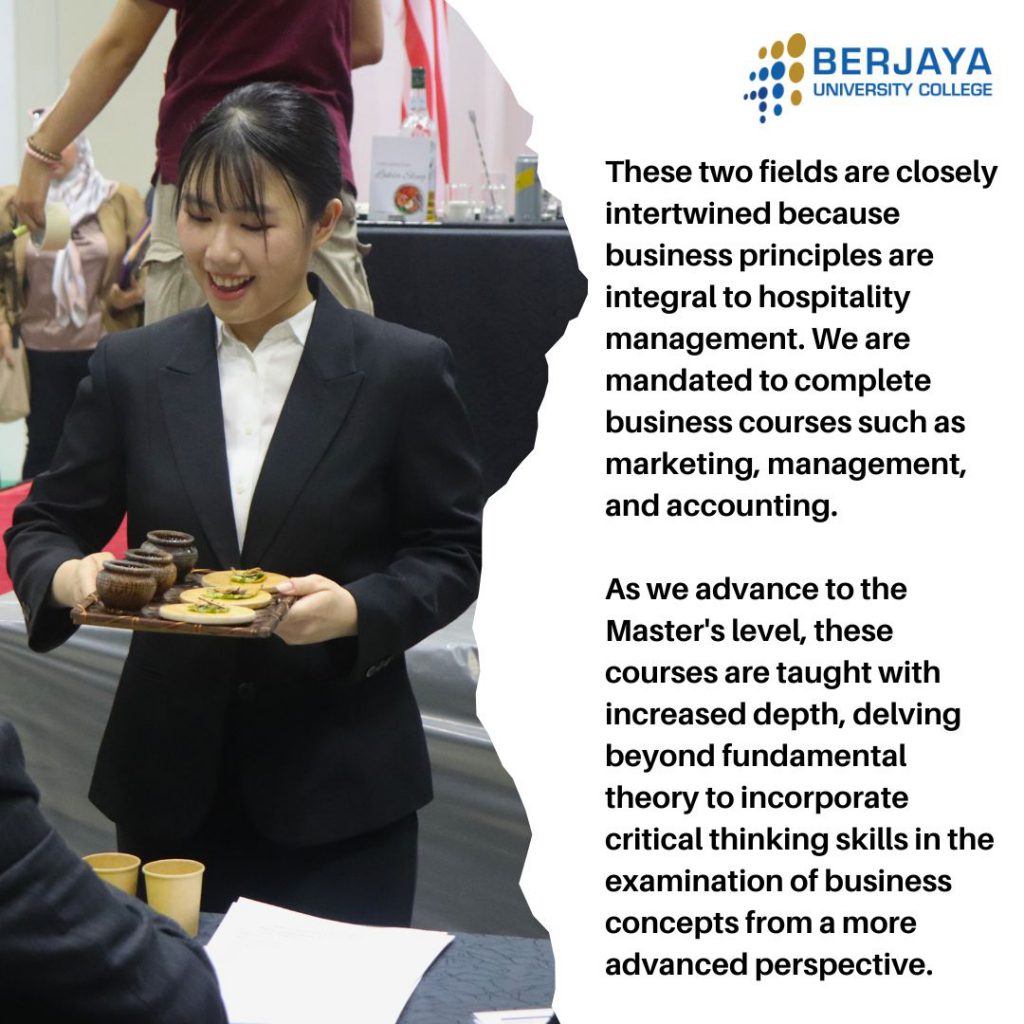 Breaking Down Perceived Boundaries
Nicole addresses the common misconception that Hospitality Management and MBA studies are distinct fields. She highlights how business principles are integral to hospitality management and how her dual background has equipped her with a deeper understanding of the market and emerging trends. Effective relationship management, a core aspect of hospitality, is increasingly vital in today's interconnected world, offering valuable networking opportunities and the ability to build harmonious social circles.
Valuable Lessons from Internship
The compulsory internship program during her Bachelor's degree was instrumental in shaping Nicole's skills and experiences. Communication skills, in particular, proved invaluable, as they facilitated quicker progress and minimized misunderstandings in both academic and work settings. These skills will undoubtedly continue to serve her well in her future career.
Advice for Current Students
Drawing from her own experiences, Nicole advises current students to remain humble, take initiative, and not be afraid to make mistakes. She emphasizes the importance of seeking guidance, asking questions, and recognizing one's own areas for improvement. Staying humble fosters approachability and the ability to learn from others, critical qualities for success in both academic and professional endeavors.
A Vision for the Future
As Nicole prepares to join a management office upon completing her MBA, her career aspirations are centered on taking on significant leadership roles and contributing to talent development within her organization. Additionally, she aspires to become a mentor, guiding and supporting junior colleagues in their own career journeys by sharing her knowledge, experiences, and lessons learned.
Nicole Sai Xin Ni's academic journey is a testament to the transformative power of education and the ability to blend diverse fields of study. Her story reminds us that the pursuit of knowledge knows no bounds, and the intersections between seemingly distinct disciplines can yield extraordinary results.