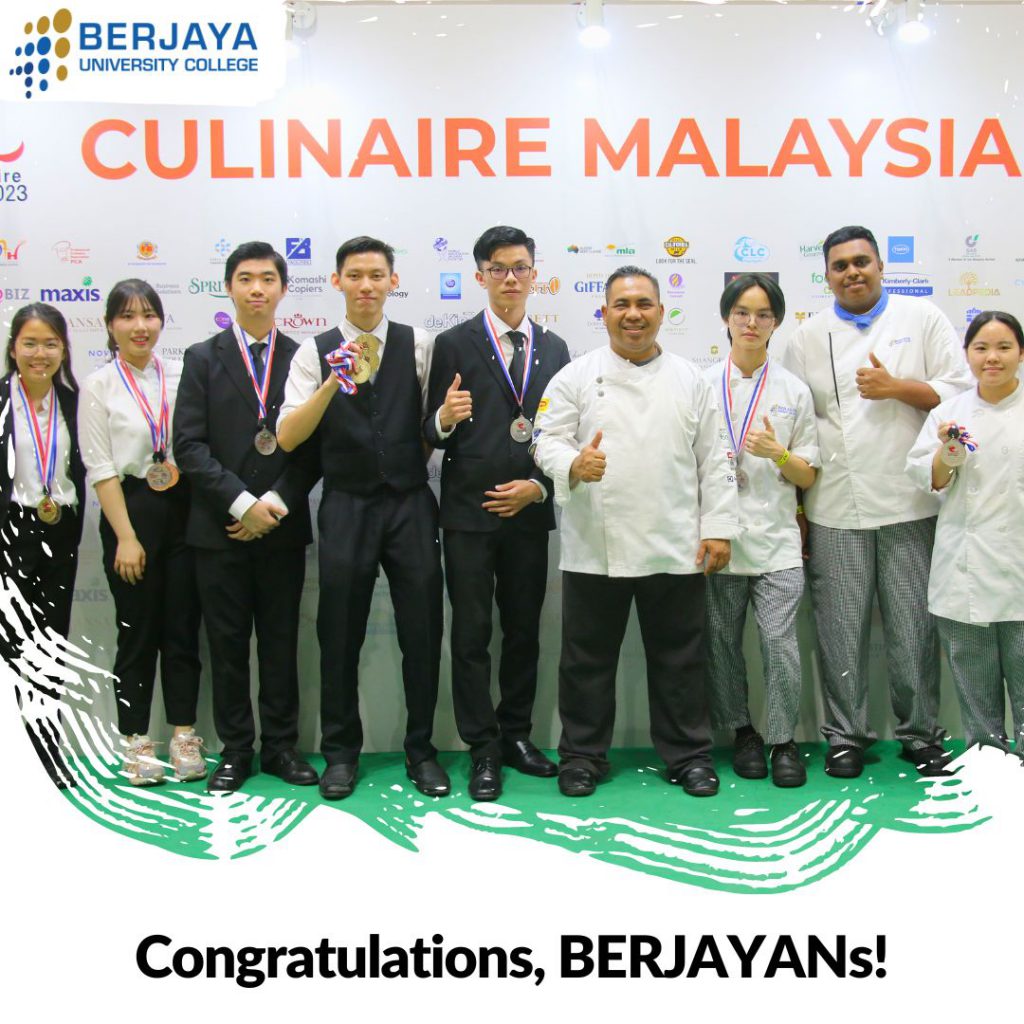 Date: 6th October 2023
BERJAYA University College proudly celebrates exceptional achievements at Culinaire Malaysia 2023, Southeast Asia's top culinary competition, and the inaugural Housekeeping Malaysia 2023!
Culinaire Malaysia 2023 attracted over 1200 participants and 100 global judges, solidifying its premier culinary event status.
In a remarkable debut, our students showcased exceptional skills at the inaugural Housekeeping Malaysia 2023, setting new standards in seven categories.
Both events were organised by Food & Hotel Malaysia (FHM) and took place at the Kuala Lumpur Convention Centre (KLCC) from September 19th to 22nd.
The awards presented over four days highlight the dedication and commitment of BUC's culinary and hospitality talents.
BERJAYAns achieved 5 Gold, 5 Silver, 10 Bronze, and a Diploma award.
Heartiest congratulations to our talented students and future industry leaders below!
19th September
Mocktail
Angeline Toh Poh Lin (Bachelor of Hospitality Management): Gold
Nicole Sai (Master of Business Administration): Silver
Fruit & Vege Carving
Punitharaasan (Bachelor of Culinary Arts Management): Bronze
Meat and Poultry Main Course (Western Style)
Umar Aziz (Diploma in Culinary Arts): Bronze
Apprentice – Fish Main Course (Western Cuisine)
Claudia Quah (Diploma in Culinary Arts): Silver
CLC Blue Cod Fish / Seafood Main Course (Western Style)
Dustin Trieu (Diploma in Culinary Arts): Diploma Award
20th September
Towel Art
Aaron Ma (Bachelor of Hospitality Management): Bronze
Fine Dining Table Setting
Nicole Sai (Master of Business Administration): Bronze
Cocktail
Angeline Toh Poh Lin (Bachelor of Hospitality Management): Silver
Chang Lay Seong (Bachelor of Hospitality Management): Gold
Blue Cod Fish / Seafood Main Course (Western Style)
Weng Khean (Bachelor of Culinary Arts Management): Silver
Chef of the Nation – Fish/Seafood Main Course (Western Style)
Chef Shahrir (Faculty of Culinary Arts): Bronze
Real California Milk Pizza Challenge – Professional Chef
Chef Alex (Faculty of Culinary Arts): Bronze
21st September
Malaysian Local Fruit Flambe
Chang Lay Seong (Bachelor of Hospitality Management): Gold
Nicole Sai (Master of Business Administration): Bronze
Fine Dining Table Setting
Chang Lay Seong (Bachelor of Hospitality Management): Gold
22nd September
Team Challenge – Hi Tea Asian Tapas: Silver
Chang Zhihins (Diploma in Hotel Management)
Tong Zi Zhun (Diploma in Culinary Arts)
Eric Chong (Diploma in Culinary Arts)
Daneesha Choong (Diploma in Patisserie)
Malaysian Heritage Cuisine
Alliza Hanim (Diploma in Culinary Arts): Bronze
Aussie Lamb Main Course (Western Style)
Digesh (Faculty of Culinary Arts): Bronze
Dustin Trieu (Diploma in Culinary Arts) : Bronze
The awards ceremony culminated in a grand Award Gala Dinner where two BUC students claimed top honours:
Best F&B Personnel: Chang Lay Seong (Bachelor of Hospitality Management)
Best Mixologist: Angeline Toh Poh Lin (Bachelor of Hospitality Management)